Though only officially playing at the University of Alabama for two years, you can find Siran Stacy's name in almost every offensive statistical record there is. He made his mark at Alabama, and he made it quickly, but there was always more to Stacy than just records, he had personality as well. Whether it was jitterbugging his way through defensive linemen and into the endzone or running over a linebacker he did it with style and made it look easy. He was truly a fan favorite and a joy to watch. Now that Stacy's playing days are long behind him, he is working as a loan officer out of Panama City Beach, Florida, but his passion for Alabama still beams through. Growing up an Alabama fan, he says Alabama has always been in his heart and always will be. When he was eight years old he remembers standing outside leaning against a pole pretending he was Coach Paul "Bear" Bryant leaning against the goal post at legion field. " I remember my first game at Alabama when I was getting ready to run out of the tunnel, I was twenty at the time, and something spoke to me and said 'Remember when you were eight years old?' A lot of things had happened between the time I was eight and leaning against that goal post, to that day that I was finally going to run out of the tunnel. I remember running out of the tunnel to 80,000 people going crazy and none of them really knowing what I knew."
Siran was a blue chip recruit out of high school, however his academics prevented him from going straight into college. " I didn't actually graduate from high school with the rest of my class. I had to go to summer school to get my diploma, which was a real low time of my life, but I went through summer school and got my high school diploma. I wanted to go and play football, but I couldn't go to Alabama, or anywhere else, because I didn't have the grades. I had not scored high enough on my ACT, but a small junior college out in Coffeyville, Kansas and a guy by the name of Dave Radar, was coaching at Alabama, was recruiting me and made a phone call on my behalf. He told me if you go out there and get your grades straight and have a good year then you can come back to Alabama. So I ended up trying to get up enough money to go out to Coffeyville, Kansas, because I didn't have enough money. I remember trying to wash cars, mow lawns, and I ended up getting a one way ticket out to Coffeyville, Kansas, but it took everything I had. I had one bag, I got on a Greyhound bus and it took 33 hours to get to Coffeyville. We stopped at what seemed like every city in the United States to get to there. When we finally got there it was about 2:30 or 3:00 in the morning and I can recall the last eight hours of the trip. Everyone else had gotten off of the bus and it was just the bus driver and myself and we started talking and I shared a lot of stuff with him. He said 'Kid, you can make it out here. Just keep your head strong and stay out of trouble.' We get to the bus station in Coffeyville and of course there is nobody else at the bus station at three o'clock in the morning. It was actually more like a gas station with one light and he says 'son this is where you have to get off' and I said 'what do you mean I have to get off?' He said ' this is it, this is Coffeyville.' 'But there is no one here to pick me up' I said. ' Well, the school that you want to go to is about a mile and a half up this road. The best thing for you to do is put your bag in those bushes and walk up that road.' When I got off the bus the last thing I remember was the gears changing on that Greyhound bus. I remember those tail lights as it drove off in the distance. Kansas is such a flat state, and I watched it for as long as I could, and then it disappeared, and there was no one out there but myself and one light, and it was as quiet as quiet could be. I was eighteen years old and I had never even been out of the state of Alabama and here I was in Coffeyville, Kansas and it was a scary, scary experience. I put my bag in the bushes and I remembered a scripture that my mom and dad use to always read to me. "Though I walk through the valley of the shadow of death, thou shall fear no evil for thou art with me." And I know God was with me at that point, I didn't freak out. I walked up that road and I ended up finding the school and beating on people's doors until finally someone let me in. It was Dawson and he said the coach would not be there until in the morning, but I could sleep in his room. The next morning the coach said "We didn't know if you were coming out here or not, because we didn't know if you were going to make it," (because camp had already started about two days before)" but now that you are here we are going to give you a fair chance." Coffeyville was one of the most competitive leagues you could get into. There were a lot of guys there that were trying to do the same thing I was; trying to rebuild their education or character and get things straightened out. It was tough, but it made me a man and when it finally came time for me to leave junior college I was the number one running back in the nation. Coach Perkins was no longer coaching at Alabama and I had kinda fallen through the cracks and been forgotten about. I could have gone anywhere I wanted to at that point. My coach asked me where I wanted to go. He had a good relationship with Coach Tom Osbourne of Nebraska and many considered it a done deal that I was going to Nebraska. I said "Coach, I want to go to Alabama." And he said "Well they aren't even recruiting you. They haven't even called out here." But I told him that that was where my heart was. My heart was still on that eight year old dream, playing out there on legion field, Coach Paul "Bear" Bryant, that crimson and white, the triple option and that dream was still with me, so I told him that was where I wanted to go. At that time Bobby Humphrey was leaving Alabama to go into the NFL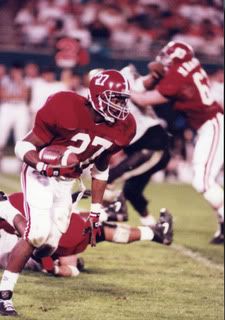 and so they needed a running back." After a few phone calls were made Alabama decided to give Siran a chance. "The next thing I knew I was heading back to Alabama and I was going to be on scholarship at the University of Alabama and that was one of the proudest moments of my life when I signed to play with the University of Alabama." Siran had two years of eligibility, but tore up his knee his senior year and was granted a medical redshirt.
What does it mean to Siran to wear crimson? "For me it was a special honor. It was a twelve year old dream coming to reality. Even though I had a scholarship I still had to show the coaches that I belonged there. I still had to earn my way onto the field. I had to prove that I should be wearing the crimson and white jersey. Just because you sign a scholarship to play for the University of Alabama does not mean that you get to play for the University of Alabama. It means that you have the opportunity to play for the University of Alabama. You still have to go out there on that practice field, go through spring training, all the things that you need to do to get to that day, game day. When the coach tells you this is gonna be your jersey and this is gonna be your locker; until then it's all about potential. Proving you deserve to put on that jersey, that's when you play for the University of Alabama. To be able to put on that jersey and go out there and help your teammates and to have an impact is a special, special honor and still is that I have in my life. The good Lord blessed me to play at the university. There is nothing like when the Fall comes and the leaves start falling on Denny Chimes and everybody is walking across the Quad and heading to the stadium. It's just a special atmosphere. When I go back to campus I can't stand it, I get goose bumps. It's like a rejuvenation process that happens for me. To play for Alabama was an honor for me and should be for all the players. You look at the legends; we had the greatest college coach in the history of the game, all the great quarterbacks that played there, all the great defensive players, all the great line backers, great running backs and you look at our storied history. It is an honor to play for the University of Alabama. The players that are going there need to know this. They need to know that this is not just some school that you got a scholarship to go to. You may have been great in high school, but that doesn't mean anything. To know that you can go to school and get your education, have a chance to be successful in life, not just on the field but off, to be a role model. It's an honor. When I think about all the kids that would love to go and play for the university, but there are only a few that are given that opportunity. For that few, they need to know that it is an honor.
Siran left the university in 1991, one year before the university won the national championship. "That was a special moment for me, I was playing for the Philadelphia Eagles. We had a game in New Orleans that week so I was sitting there in the Sugar Bowl watching the game and I was going nuts. I had heard so much about how Miami was going to blow us out and about how Miami was so much better. Casey Welburn, the Florida State quarterback who had gotten drafted by the Eagles also had gone on and on about how great the teams in Florida were. He was so mad that Alabama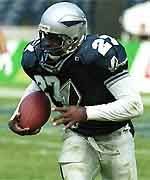 was in the national championship game. He said you don't even have a quarterback, you don't even have an offense. He went on and on about how good all of the Florida schools were. And how we lucked out to be there. I told them that they didn't know the heart of those guys on that football team. I feel like we had something to do with that championship because we were 11-1 my senior year and we kind of passed on the torch to those juniors and sophomores. It's kind of like the father watching his son go out and hit the game winning homerun. It was just an awesome feeling.
Siran feels that Alabama is once again headed in the right direction. "Coach Saban came over to me and some of the former players and talked to us about bringing everything back together, getting everybody on the same page, from fans to football players, coaches, and staff to a formal atmosphere like when Coach Stallings had it. Just having everybody love one another, encourage one another, instead of the division that has come over the program. It's just great to have the head coach saying 'this is what I am after.' "
Press Here for Video of Siran in Action
Roll Tide Siran!
Records:
Rushing Touchdowns in a season: 2nd behind only Shaun Alexander
Though only playing for two years ranks 9th and 11th for for most yards gained in a season.
Career Rushing is ranked ninth
Tied for second most touchdowns in a game with four.
Ranked 4th in BAMA history for touchdowns in a season
Only five players have rushed for more yards in a game than he did in 89 against LSU with 211
Only six people have had more receptions in a game than Stacy with nine for 158 yards against TN in '89

Only five people in Alabama history have more receiving yards in a game than the 158 from the Tennessee game in 1989.

Only two players in Alabama history have scored more points in a game than Stacy's 24

He ranks second only to Shaun Alexander for most points scored in a season
NFL Europe records with the Claymores:
Most career rushing attempts: 623

Most season rushing attempts: 223

Most Career rushing yards: 2,362
www.RollCrimsonTide.com is a personally owned Alabama fan site and
is not affliliated with or endorsed by the University of Alabama®
Alabama logos are property of The University of Alabama®