By: Joe Tucker
S.E.C.!!!!...S.E.C.!!!! …S.E.C.!!!!...S.E.C.!!!! Did you hear it? That common chant you so often hear at the end of the college football season, starting up again last night.

BOOOOOOOM!!!!!!!! Did you hear it? The sound of the Baylor Bears blowing a hole in the Kansas State Wildcats National Championship dreams.

PING!!!!!!!!!!! Did you hear it? That indubitable sound of the Oregon Ducks chances of playing for the title, bouncing off the goal post like a duck flying into a window.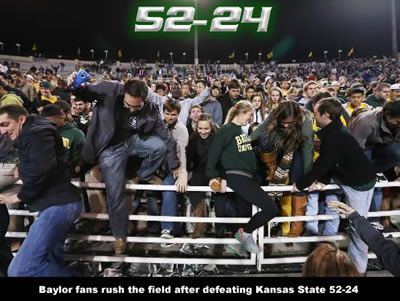 Yeah, I know you heard it. It was loud and clear. It was the college football world getting turned on its head. It was the Baylor Bears standing proudly before their fans and denying number one even a sniff of victory in their house. The Bears saw an opportunity to prove to the world what they were capable of, and they didn't just knock on that door, they kicked the dang thing in. It was a 52-24 slogger knocking. The number one Kansas State Wildcats' may have been knocked out of the picture last night, but they have nothing to be ashamed of; they had an excellent season. They climbed through the ranks of the college football big boys, and Kansas did it with class. They did it with style. They did it with one of the game's most dynamic players, quarterback Collin Klein. "We knew that No. 1 only matters at the end," Klein said. "It's very fickle and we knew that. We knew Baylor was a very good team coming in, and we just didn't get it done." While it appears that Klein's national title hopes have disappeared, there's still a lot to play for and Klein himself still has a chance to land the most coveted individual award in college football, the Heisman Trophy.

But how about that PING!!!!!!!!!? The mighty Oregon Ducks did it again. They quacked under pressure. The high powered Duck offense flew into a fence Saturday night, a D-Fence. Stanford's defense was able to shut down the high scoring Oregon "O" holding them to just 14 points, while holding a 15 minute time of possession advantage over the Ducks. The Cardinals had the nation's best run defense going into the game, allowing an average of just 54.8 yards a game. Oregon, meanwhile, had the country's third-best rushing offense, averaging 325 yards a game. Stanford held Ducks running back Kenjon Barner, who was averaging 136 yards rushing a game, to just 66 yards. The Ducks managed only 198 yards on the ground. As the old saying goes, offense puts fans in the stands, but defense wins championships. If both Stanford and Oregon win in their final games next weekend, both will finish with one conference loss, which means Stanford will win the head-to-head matchup and go to the Pac-12 championship for a chance to play in the Rose Bowl. This loss of an additional game would make Oregon hard pressed to bounce back into the BCS Championship game.

Lou Holtz once said, "The man who complains about the way the ball bounces is likely the one who dropped it."

There's two weeks left of college football before we know who gets the opportunity to play for the championship. As we've found out, the ball can bounce many ways. Right now it appears the defending National Champion, Alabama Crimson Tide, will be playing for their third national title in four years against the undefeated Notre Dame Fighting Irish and a chance for the S.E.C. to win the league's seventh straight national crown if they win out. This is something the rest of college football has had nightmares about all year, but it could be even worse for the fans of any conference not named the South Eastern Conference. If the Fighting Irish should lose next week against Southern Cal, and the Florida Gators should win out against Florida State, we could see another S.E.C. vs. S.E.C. title game pitting the winner of the S.E.C. Championship Game against Florida. Both of those things happening are very real possibilities.

Did you hear what I said? Think about it.

I leave you now with a famous quote from Winnie The Pooh's Tigger. "Well, I gotta go now. I've got a lotta bouncin' to do! Hoo-hoo-hoo-hoo! T-T-F-N: ta-ta for now!"


By: Joe Tucker
LSU head coach, Les Miles said in an interview before the game against Alabama Saturday night, "Death Valley is where dreams come to die." Little did Miles realize those dreams were going to be LSU's and their fans.

Meeting for the third time in less than a year, Alabama and LSU were all too familiar with each other and the challenge that this game would provide. This was going to be old man football, two heavy weights slugging it out. The matchup had been compared by some in the media to the Rumble in the Jungle, the 1974 Heavy Weight Champion Boxing match between Muhammad Ali and George Forman. The last time the Crimson Tide and LSU Tigers met up was in New Orleans for the National Championship game. Alabama had crushed LSU's dreams of winning a National Championship and showed total domination in the process winning 21-0. The time before was their regular season matchup in Tuscaloosa, where Alabama dominated the Tigers everywhere except for on the scoreboard, losing 9-6. However last night, in Baton Rouge, the tables were turned and it was LSU's time to dominate in virtually every category………….and lose the game.

All the numbers but the 21-17 final score would lead you to conclude the Tigers had won.

LSU outgained Alabama 435-331 — and lost.

LSU's Jeremy Hill rushed for 107 yards — the Tigers were 31-2 under Miles coming in with a back rushing for 100 yards — and lost.

LSU had 85 plays to Alabama's 52 — and lost.

LSU held a lopsided 39:15 to 20:45 edge in time of possession — and lost.

LSU had everything to play for in the game; revenge for Bama ripping the National Championship out from under their nose in January, a chance to play for the SEC title, and a chance to work its way into this year's National Championship — and it lost.
Alabama led 14-3 at halftime, but the Tigers held the Tide to one second-half first down until the final drive and LSU's quarterback, Zach Mettenberger guided LSU to two second-half touchdowns and a lead of 17-14. LSU was in position to put the game away in the final minutes of the second half. The Tigers had a first down at the Tide 32. Tiger's fullback, J.C. Copeland gained 3 yards, and Hill lost 3 and gained 4. The runs forced Nick Saban to use Alabama's last two timeouts, but LSU kicker, Drew Alleman was wide left on a 45-yard field goal with 1:34 left.

An uncharacteristically shaken AJ McCarron, who had been off all night came alive. There was 1:34 left in the game, with no time outs as the Crimson Tide took the field at their own 28 yard line. They had to drive 72 yards and score a touchdown to win the game, and they had to do it in one of the most hostile environments in college football, Death Valley, on a Saturday night, where dreams come to die, and Bama was witnessing theirs die right before their eyes. In front of a raucous and hostile record setting crowd of 93,374 fans at Tiger Stadium, McCarron had to lead his team down the field against a stingy LSU defense that had allowed them just 49 yards the entire second half, holding AJ to 1 of 7 for zero yards.

Now it was "rope the dope" time. In the classic boxing matchup years ago deep in the African Jungle, Muhammad Ali used a strategy he dubbed "rope a dope" to win the fight with George Foreman. His strategy was simple, lean against the ropes and let Foreman pound away at him until Foreman had sapped all of his energy and then Ali unleashed on him and won the fight by a knock out.

"I just looked at everybody on the sideline," Alabama quarterback AJ McCarron said. "We got down for a minute, but we pulled it together. I told them, 'We do it every Thursday in practice. It doesn't matter how many people are in the stands. The field is still 100 yards long, and we have to go put it in the end zone.'"

LSU had been pounding on them relentlessly all night. The Tiger defense wasn't worn out, but they were eyeing the prize. The Tigers were confident their dreams were about to come to fruition. Revenge.

It was Alabama's turn to rope a dope. One last shot, seventy-two yards, no time outs, 1:34 remaining. The Tide took the field. Barrett Jones recalls from the huddle, AJ looking at them and saying, "We've got a chance to make history. Who's going to be the one who makes history?" And it began. The Drive.

McCarron zipped an 18 yard pass to Kevin Norwood for a first down to stop the clock. Ball on the Alabama 46.

McCarron fired across the field to Norwood yet again to move them to the LSU 39 and another first down as the clock stops again to move the chains. You could cut the tension with a knife.

Kevin Norwood darts for the sideline to catch another pass by AJ to move them to the LSU 28 and another first down. All 93,374 fans in the stadium were on their feet.

McCarron tried to hook up with Norwood again in the corner of the end zone, but it fell incomplete and the Tiger faithful knew their dreams were at hand.

T.J. Yeldon, Alabama's true freshman, faked a block on blitzing cornerback Jalen Mills, convincing Mills that he was not going out for a pass. Then he drifted into the left flat and caught the screen pass from McCarron. Yeldon had one man standing between him and victory, Tiger safety Craig Loston. Yeldon floated like a butterfly and stung like a bee as he juked Loston and danced into the end zone to crush LSU's dreams once again.

The final score, Alabama 21, LSU 17.